AV News Holiday Story Contest - Click here for more info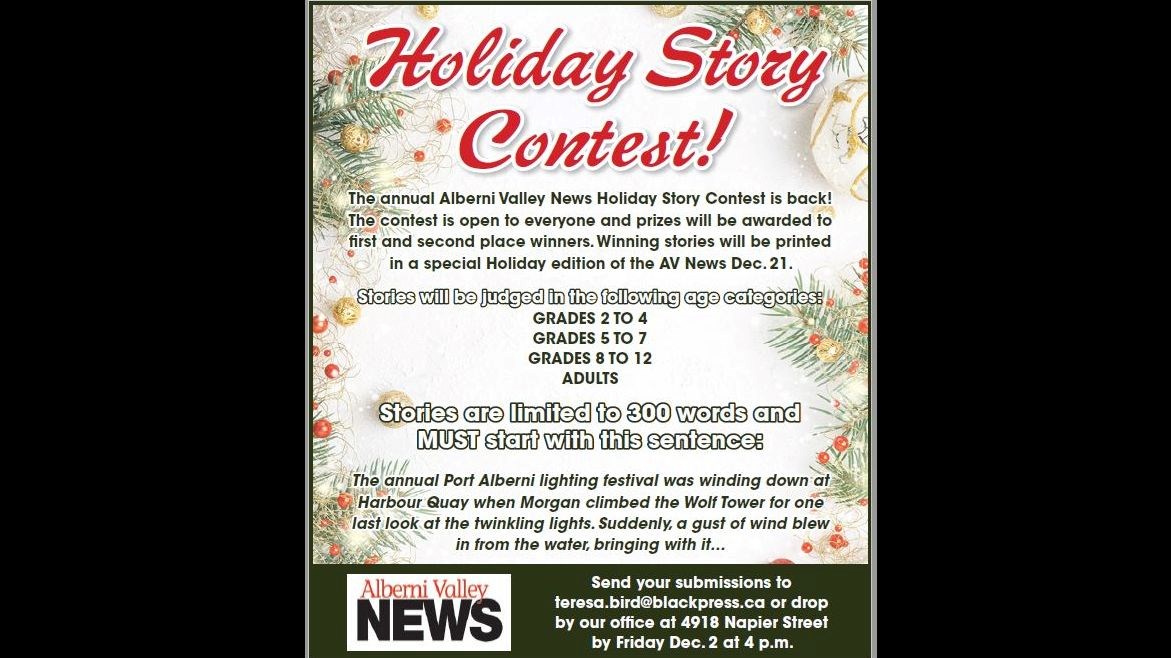 The Alberni Valley News is once again offering a holiday story contest for students during the holiday season.
The stories will be judged, and prizes awarded to first and second place in each of the categories as below. The winners will be published in our nationally award-winning Holiday Greetings Section on Dec. 21 and appear online at www.albernivalleynews.com/e-editions under Special Features.
Our readers look forward to reading students' stories and the Story Contest has become a tradition in the Alberni Valley. There is also a colouring contest. Look for the colouring page in the Alberni Valley News.
Here are the rules:
• Contest is open to all students, grades 2 to 12 in School District 70, as well as those attending private schools and those homeschooled. Stories will be judged by the following age categories: Grades 2 to 4, Grades 5 to 7, and Grades 8-12. Adults are invited to participate in an adult category!
• All submissions MUST start with the "story starter" below.
• All work must be original
• All stories must include the student's name, grade and school
• Maximum 300 words (excluding story starter), entries may be stories or poems.
• Accompanying artwork is encouraged but may not be published.
• Stories may be handwritten or typed. Emailed submissions are appreciated.
• Winners will be notified by Thursday, Dec. 15, 2022, through their school.
• Deadline to enter is 5 p.m., Friday Dec. 2, 2022, no exceptions.
• Stories may be emailed to teresa.bird@blackpress.ca (preferred) or dropped at our office at 4918 Napier Street.
Story Starter:
The annual Port Alberni lighting festival was winding down at Harbour Quay when Morgan climbed the Wolf Tower for one last look at the twinkling lights. Suddenly, a gust of wind blew in from the water, bringing with it…
We look forward to finding out what happened next!
Thank you for taking part,
Teresa Bird, Publisher
Alberni Valley News
250-720-7756
teresa.bird@blackpress.ca