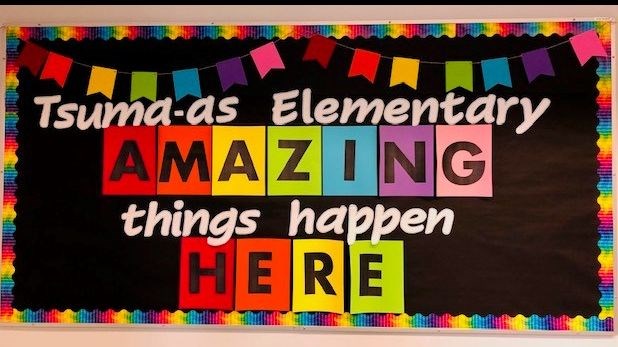 Welcome to Tsuma-as Elementary School! We are committed to meeting the unique needs of students in a supportive, caring environment which promotes student learning, a sense of pride, responsibility, and accomplishment. Tsuma-as Elementary is a K to 7 school in the community of Port Alberni located in the shared Tseshaht and Hupacasath territories in which we live and learn.
This year, we have 15 divisions, and a staff of 31, consisting of teachers, Education Assistants, and numerous support staff. We also have a Nuu-chah-nulth Education Worker.
Tsuma-as Elementary School continues to have a strong feeling of community. Although Provincial Health and Safety Protocols have restricted many annual activities and established structures, students and staff have found new ways of building positive and deeper relationships with each other. We also have an active Parent Advisory Committee who works hard at supporting the school in a variety of different ways.
At Tsuma-as, we value a learning environment that is positive, safe, and caring. We are committed to seeing each student rise to their potential and enhance their joy of learning. We use the symbol of a wolf as our school logo and use the acronym WOLF PACK to describe our positive, safe, caring and orderly school learning community.
Welcoming Position
Organized Always Respectful
Loyal Learners Cooperative
Focused Kind, Caring and Safe